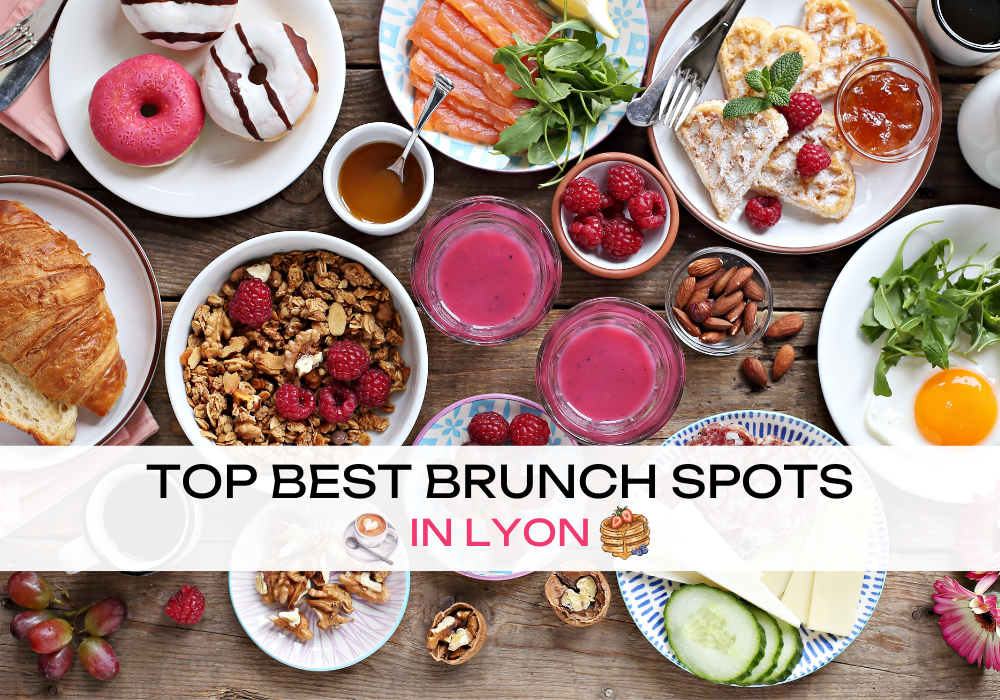 13 Jun

The best brunch spots in Lyon 🥞

Lyon is the capital of gastronomy; you can find great Michelin-starred restaurants, quality bouchons lyonnais, but also lots of restaurants offering brunch at the weekend but also during the week! There's no day to go brunching 😉

Pancakes 🥞, bun 🥯, cake 🍰, viennoiseries 🥐 or cappuccino ☕️, you'll be salivating in front of your screen 🤤
Discover our selection of the best places to go for brunch in Lyon.
1. Bartholomé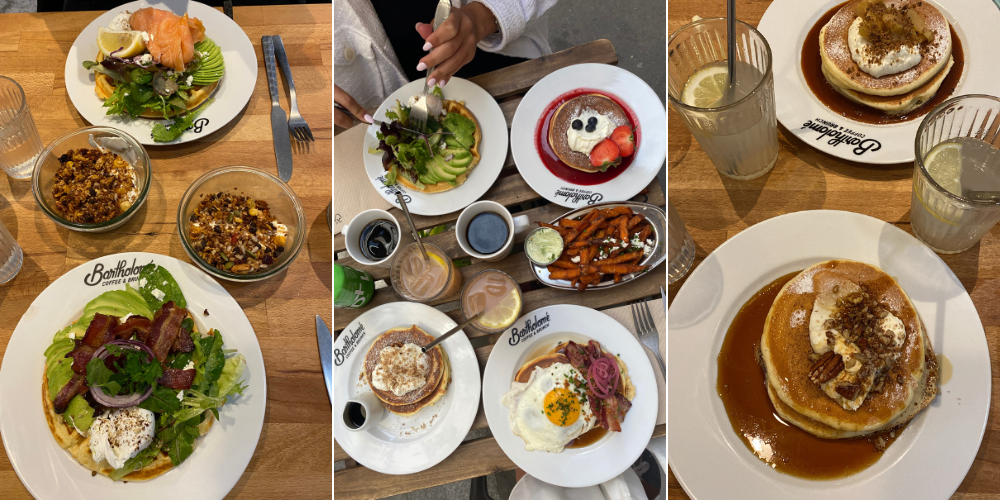 Bartholomé brunch offers dishes inspired by the North American breakfast world, as well as bowls and maxi sandwiches.
Each new menu is carefully prepared using fresh produce, and always with a view to offering gluten-free, lactose-free and vegan alternatives. The restaurant is open 7 days a week, it gets very busy, we advise you to book in advance 🙂
Prices: 26€ /person weekend brunch; 21€ /person weekday brunch.
Find their different weekday and weekend menus here!
📍 38 rue Sergent Blandan, 69001 Lyon
---
2. Diploïd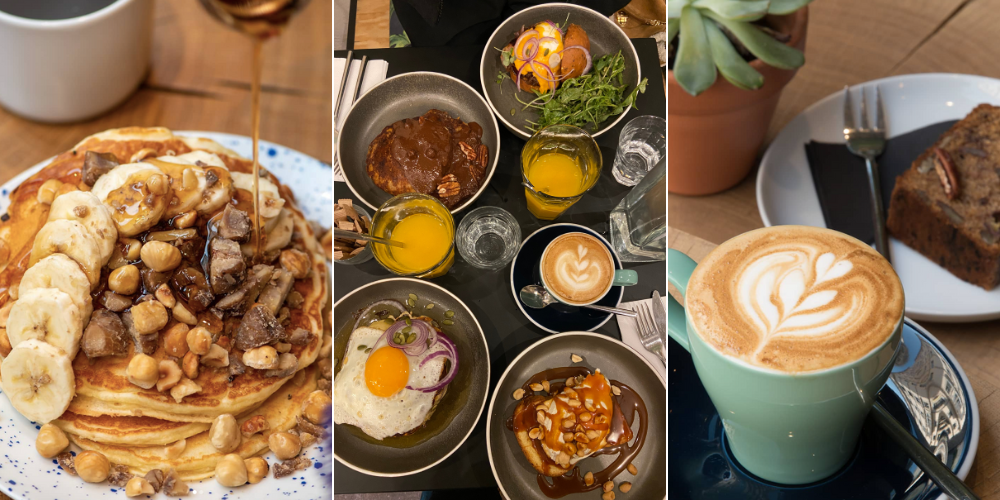 Diploïd is a coffee shop offering breakfast, brunch, lunch, speciality coffees and homemade cakes.
The recipes are composed using quality products, including carefully selected exceptional coffee, homemade pastries and local, healthy and varied food.
Like the Bartholomé, the restaurant is open every day and is often fully booked at weekends. We advise you to get to the restaurant early enough to avoid the crowds and have the chance to brunch at Diploïd, as they do not take bookings.
Prices: dishes between 7€ and 14,50€.
Discover their different menus here!
📍18 Rue de la Platière, 69001 Lyon
---
3. L'origo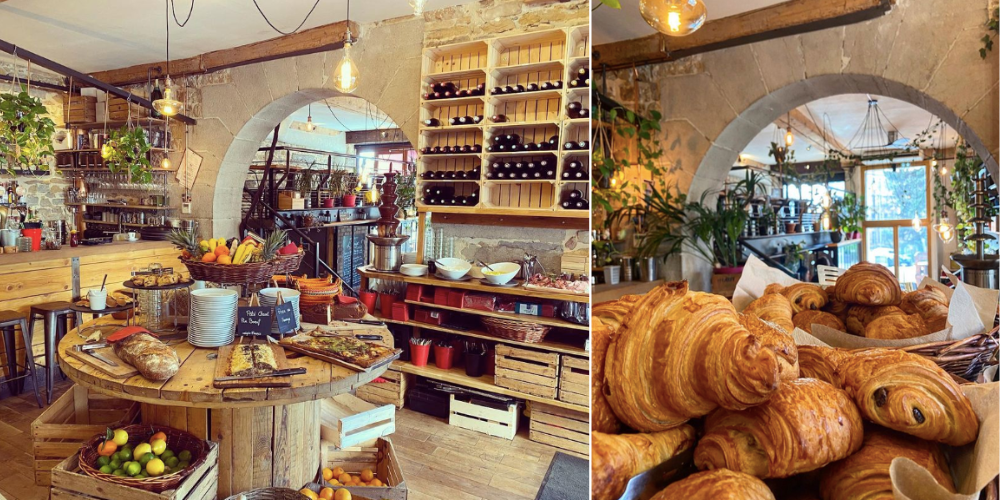 L'origo offers an all-you-can-eat sweet and savoury buffet with cold meats, cheese, pastries and sweet cakes, as well as three savoury boards and a sweet dessert board served directly to the table. The place is warmly decorated and welcoming, the service is impeccable. We highly recommend this gourmet brunch!
Brunch is only available at weekends on Saturdays and Sundays, just like the 2 previous brunches, so we advise you to book in advance to make sure you have enough space.
Price : 26,90€ /person excluding drinks.
Would you like to find out more about Origo? Watch the video presentation of the restaurant just here!
📍2 Rue Jeanne-Marie Celu, 69004 Lyon
---
4. Le Desjeneur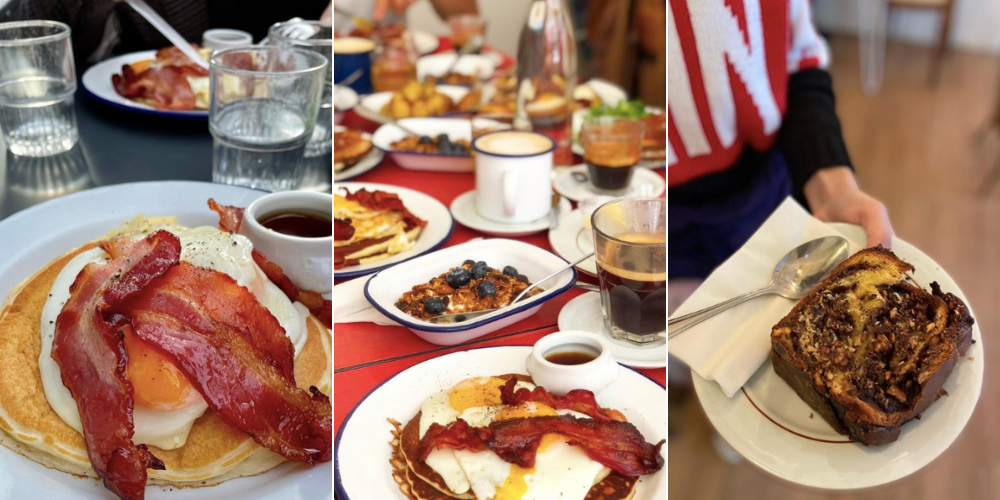 At Le Desjeneur, you can brunch every day! Pancakes, homemade cakes, granola, gourmet toast, croques monsieurs … And everything is homemade with fresh produce! Savoury pancakes with bacon, runny eggs and maple syrup, gourmet cakes or homemade granola yoghurt, you're in for a treat! 😋
The restaurant is very often fully booked at weekends and doesn't take bookings, so we advise you to get there early enough to hope to eat this excellent brunch!
Price: 19,50€ /person.
Check out their Instagram with their gourmet photos!
📍3 Rue des Pierres Plantées, 69001 Lyon
---
5. Café Gadagne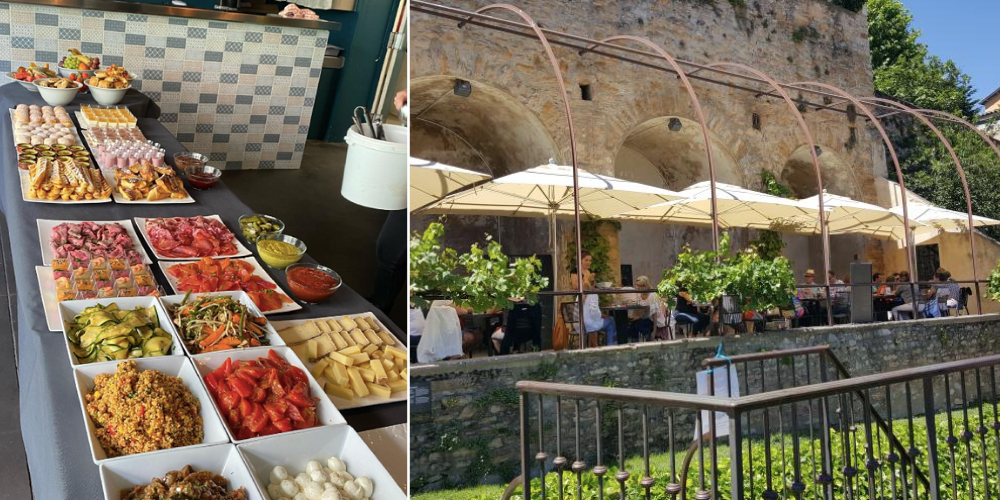 Hidden away in the Musée Gadagne, this intimate restaurant serves an excellent brunch every weekend. Located on the top floor, the Gadagne café-restaurant enjoys a prime location in the heart of Lyon. In fine weather, its shaded terrace, under the trellises, offers a magnificent view of the secret garden.
On the menu: fresh seasonal produce, inventive recipes and home-made pastries.
Price: 30€ /person.
We advise you to book your table in advance. Book here!
📍1 Pl. du Petit Collège, 69005 Lyon
---
6. CALM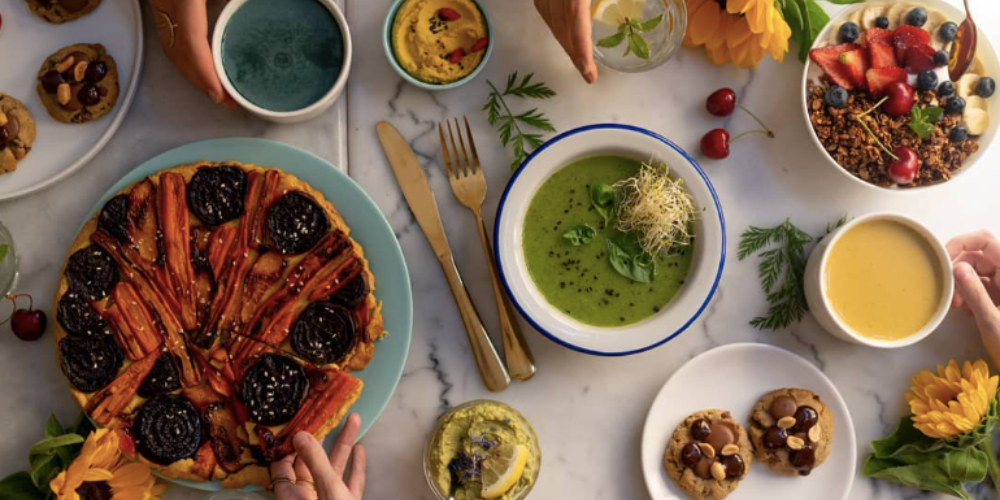 "Just like home" is what CALM wants to offer you, an organic and local canteen at lunchtime, a coffeeshop and tearoom in the afternoons and brunch at weekends. And it's all homemade!
Cakes, quiches, granola, cookies… You'll find a menu that's as original as it is delicious!
A side note on street art: CALM frequently promotes French artists, particularly from Lyon, to create frescoes or exhibit their work in the restaurant. It's sure to be a feast for the eyes!
Price: 26€ /person.
Get their menus here!
📍3 Rue Louis Vitet, 69001 Lyon
---
7. Yummy Pancakes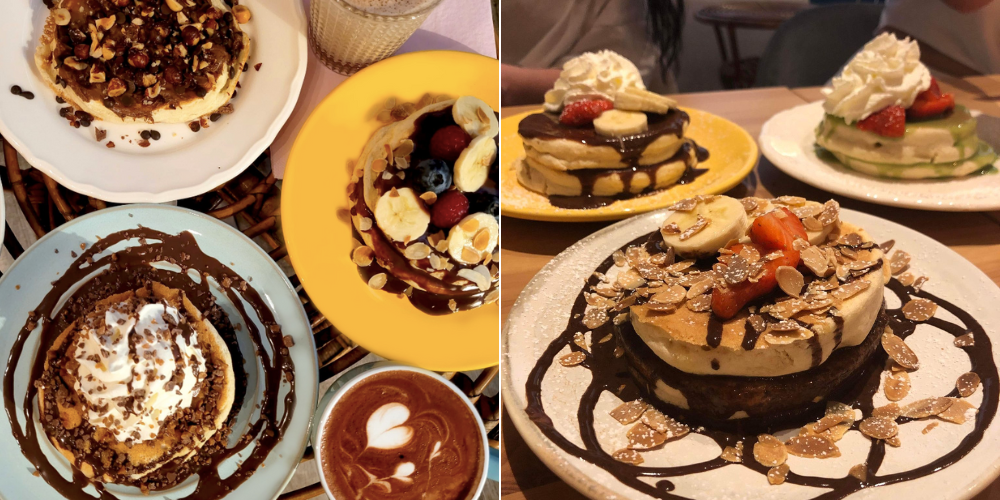 Pancake lovers? Brunch addict? Fond of homemade food and good products? Then you've come to the right place!
Yummy Pancakes is a total revisit of the big American pancake, with very French recipes and ultra fluffy pancakes!
Savoury pancakes, sweet pancakes, homemade hot and cold drinks, you're in for a treat at Yummy Pancakes 😋
The brunch menu is available from Tuesday to Sunday.
Price: 22€ /person.
Dicover the menu just here!
📍10 Rue Longue, 69001 Lyon
---
8. Milk and Pug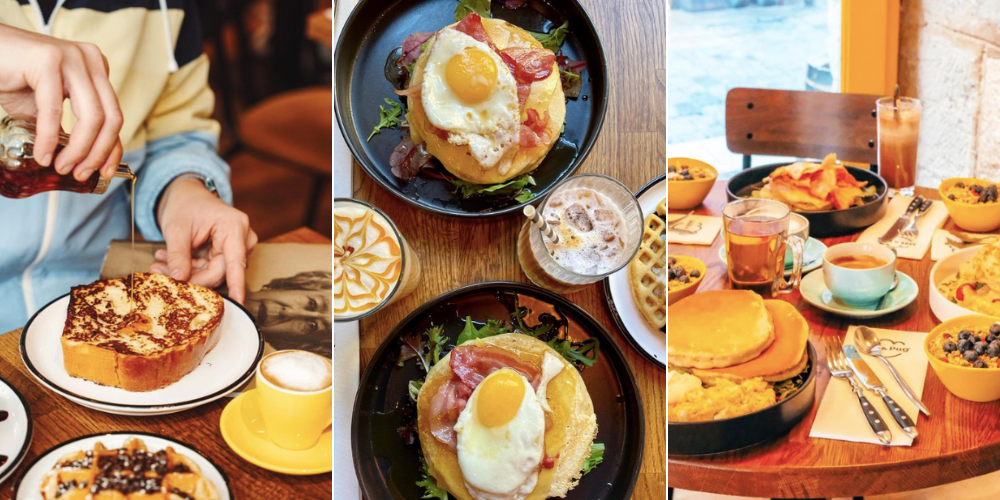 Milk & Pug is Lyon's new American-style brunch!
Located in the heart of Vieux-Lyon, every Sunday the restaurant offers a unique brunch menu featuring savoury pancakes, a granola bowl, a hot drink and a dessert of your choice. The perfect place for a brunch break during your visit to Vieux-Lyon!
We strongly advise you to book your brunch in advance.
Price: 24€ /person.
Book a table here!
📍8 Rue Saint-Jean, 69005 Lyon
---
9. Suzette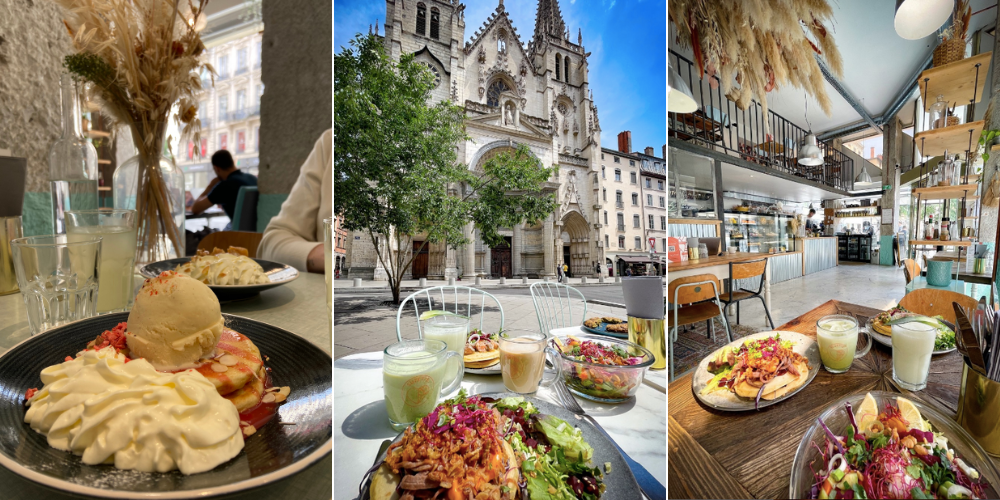 Daily brunch, sweet and savoury pancakes, poke bowls, juice bar and smoothies… Here's what Suzette has to offer!
Located on the square with a view of the church of Saint-Nizier, this restaurant welcomes you on its beautiful terrace all summer long 🌞 And you don't need to book!
Everything is homemade, the service is fast and the place is very pleasant.
Prices: 24€ /person weekend brunch; 19,50€ /person weekday brunch; 15,50€ /person mini weekday brunch. 
Find all their menus here !
📍1 Pl. Saint-Nizier, 69001 Lyon
---
We hope this selection has inspired you to go for your best brunch yet this weekend!
See you soon for another select'Lyon!
The Lyon Food Tour team