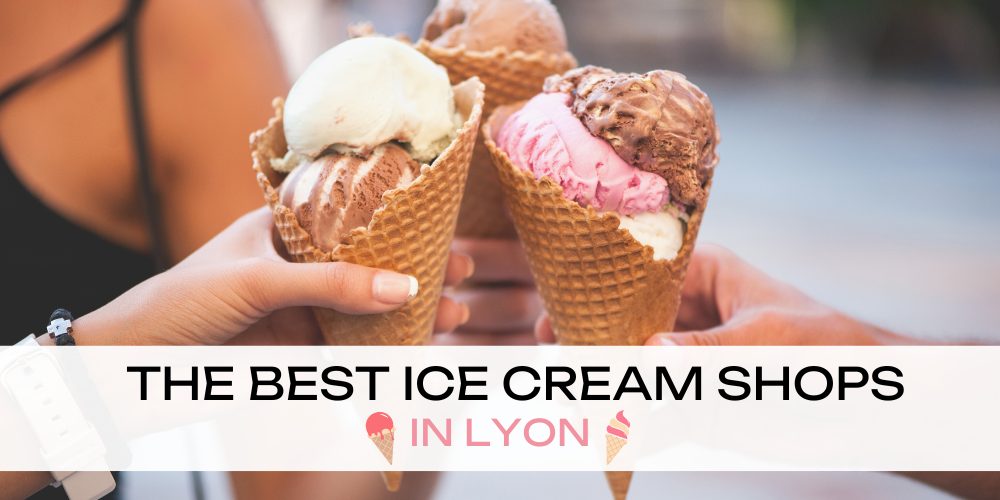 01 Jun

The best ice cream shops in Lyon

It's almost the beginning of summer, the nice weather is coming, we'd love to cool down with a little ice cream…😋 But where to taste the best ones?
Today, we've put together a list of the best ice cream shops to be found in Lyon! Ice creams with gourmet and sweet flavours, home-made and homemade🍦

Are you ready to salivate?

Discover our selection of the best ice cream shops in Lyon!
La Fabrique Givrée

How could I make a selection of the best ice cream shops without introducing you to the Fabrique Givrée 😋
La Fabrique Givrée is :
– Artisanal and gastronomic ice creations
– Made with natural ingredients from the best regions
– Creative and original recipes created in Ardèche
– Imagined and created by a group of passionate ice-cream and chocolate artists
Of course, you will find ice cream creations, but not only! The Fabrique Givrée also offers a wide range of chocolates 🍫
So if you're wandering around the Vieux-Lyon district and have a craving for ice cream, you know where to go 😉
Find their different creations right here!
📍66 Rue Saint-Jean, 69005 Lyon
---
René Nardone
A family business since 1899, the Nardone ice cream shop offers home-made and creative ice creams and sundaes designed in their laboratory located in the 5th arrondissement of Lyon. A real institution in the Old Lyon, the quality of the production is the key word of this emblematic ice cream parlour.
You will find ice cream sundaes, sorbets, milkshakes, sundae, or even waffles and crepes with ultra gourmet toppings.
To make you hungry, we've put the menu right here!
📍3 Pl. Ennemond Fousseret, 69005 Lyon
---
Gelateria Nobile

Gelateria Nobile is one of the babies of the Casa Nobile family, a great Lyon institution! On the menu:
– Gelati, artisanal Italian ice cream, made with fruit and natural fruit extracts
– Brioche con il gelato, a brioche filled with soft and delicious ice cream
– Fresh and homemade granita with Italian flavours
Their goal: to share their love for traditional recipes using Sicilian products while offering a popular cuisine based on fresh and seasonal products.
If you don't know where to go for your snack break, we found the address 😉
📍28 Rue Louis Paufique, 69002 Lyon
The quality of the products is the essence of this Ardèche ice cream parlour. Since 2020, Terre Adélice has been offering a range of 100% organic products, with a real desire to protect the environment by favouring local products.
You will find different ranges of flavours: delicate flavours with local fruits, more daring ones with cheese and vegetables, or spicy flavours to make us travel.
Find all their ice cream products right here!
📍1 Pl. de la Baleine, 69005 Lyon
---
Único Artisan Glacier

To finish this gourmet selection, nothing better than the Único ice cream parlour!
In July 2022, the ice cream parlour obtained the title of Master Ice Cream Maker! Generosity and transparency are Único's values. The ingredients used come from local companies that have been carefully selected to offer high quality products. Ice creams, sorbets, sundae, you will find different recipes 100% greedy and refreshing! 😋
And guess what, the Único family has grown with the opening of Fresco, Único's little brother! Located on the quays of Saint Antoine in the 2nd arrondissement. In this small establishment, during the summer, it is dedicated to "Italian ice cream" or "soft serve" always of high quality with the same ingredients as its big brother. The menu changes every month, according to the seasons, with different flavours.
And by the way, Único is our sweet partner on our Vegan Food Tour! We won't reveal the tasting, but we can tell you that it's very, very sweet… 🤫
📍91 Montée de la Grande-Côte, 69001 Lyon
---
We hope you enjoyed this selection of ice creams!
See you soon for a new TOP!
The Lyon Food Tour team